On May 29-31, UNESCO Jakarta hosted the 55th AI³ & SOI Asia Directors Meeting in the capital of Indonesia. The meeting was held back to back with the Joint Workshop on Open Science Infrastructure and Leveraging on Artificial Intelligence for An Effective Open Science Platform and STEPAN (Science Technology Engineering & Innovation Policy Asia and the Pacific Network) 3rd Annual Meeting, both held on May 31-June 1.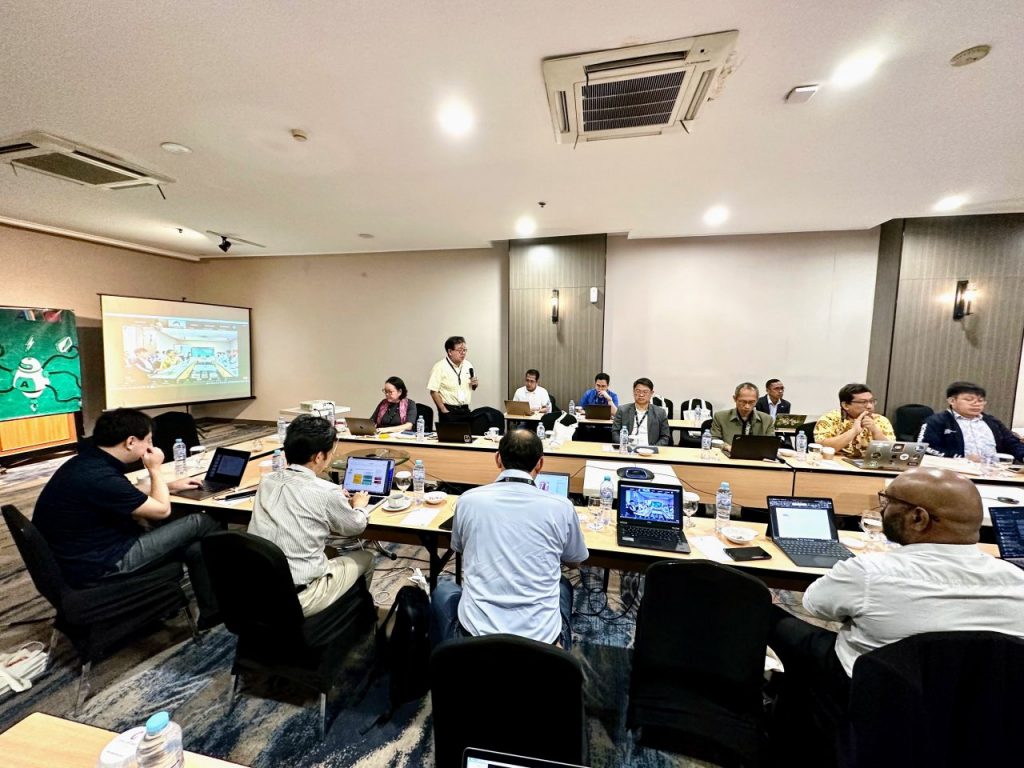 Directors Meeting – DAY 1
More than 30 representatives from SOI Asia and AI³ partner institutions attended online and onsite. Unlike regular joint meetings, the main agenda comprised discussions and project updates such as Community-based Research initiatives (CBRs), APIE, EBA, and ARENA-PAC.
ARENA-PAC—a project of APIDT Infrastructure Pty Ltd and operated by WIDE, AI³ and SOI Asia projects with APNIC—highlighted the formation of a tech community task force as the primary outcome of this meeting. The team will meet monthly starting in June to discuss strategies and directions regarding using this global research network, including as a sandbox for research.
Timor Leste had a dedicated session where Prof Domingos de Souza Freitas (UNTL) shared updates about the development of their REN. Participants shared ideas for research topics and explored potential collaboration with SOI Asia partners. The team is working to connect the University of Timor Lorosa'e (UNTL) to global RENs in 2024.
During the Evidende-Based Approach project (EBA) session, the leads introduced the proposal of a faculty meeting scheduled for late 2023/early 2024. This gathering expects to provide representatives from each institution with EBA fieldwork experience in Minamata, Japan. The EBA team also presented their upcoming fieldwork programs on cultural preservation in Hokkaido (Japan), Malaysia, and environmental issues in East Kilimantan (Indonesia). In addition, the team called for collaboration for future fieldwork.
The spotlight at the APIE (Asia Pacific Internet Engineering) session focused on discussions about the Internship component. APIE is an education program for building essential skills and knowledge to improve cyberspace for society. It comprises four main components: online self-paced courses, real-time online workshops, hands-on camps, and internship programs. In addition to current internship programs in academia, the team is trying to increase the number of institutions and enterprises accepting APIE learners for internship programs.
Directors Meeting – DAY 2
On Day 2, the highlights were the discussions on Emergency networks, Non-terrestrial networks (NTN) and Community-based research (CBR).
The discussions started asking about using satellite links for emergency networks during disasters. Understanding that every location has different needs, the team heard feedback from Bangladesh and Indonesia. The representative from Bangladesh shared the current state of connectivity in the economy and the concerns about the impact of cyclones on the local environment. The representatives from Indonesia said they also consider volcanic activities, floods, and earthquakes (and tsunamis). The team concluded that they would focus on deploying networks and capacity building.
This session was followed by discussions on the use of Non-terrestrial Networks (NTNs) in urban environments, raised technical questions on overcoming existent barriers, and information sharing about existing research on emergency networks in Indonesia.
In the CBRs session, the focus was on sharing the current status of contracts and service agreements and defining milestones and deliverables. The team also agreed to start a website for publicizing and raising the visibility of each research activity. As of now, there are seven different types of research ongoing.
Directors Meeting – DAY 3
The meeting finished with a joint workshop with STEPAN (Science, Technology, Engineering, and Innovation Policy Asia and The Pacific Network), a UNESCO initiative, on Open Science Infrastructure and Leveraging Artificial Intelligence for An Effective Open Science Platform. The main objectives are:
Discuss how RENs can enable Open Science in Region and how to engage them.
Identify the Open Science Platform/platform model for Asia and the Pacific in terms of infrastructure.
Discuss the Indicators to Monitor Open Science Infrastructure Implementation in the region.
Discuss how to leverage AI technology adoption to support OS implementation.
Identify potential projects/collaboration for both parties to ensure effective performance of Open Science.
SOI Asia director Prof. Keiko Okawa opened the workshop by addressing the importance of building a solid research community for academic collaboration. SOI Asia representatives Dr. Franz De Leon (ASTI, DOST, Philippines) and Dr. Selvakumar Manickam (National Advanced IPv6 Centre, Universiti Sains Malaysia) joined other panelists sharing best practices of Open Science and Artificial Intelligence Infrastructure in their respective institutions.